Liposuction Costs and Procedure Information
Liposuction in Atlanta is one of the most popular cosmetic surgery procedures, largely because it addresses common problem areas among patients of all ages and stages. Liposuction — which is also known as body contouring Atlanta — is a procedure in which a suction technique is used to remove fat from a specified area. In order to get the best results from your liposuction procedure, it's important to work with a board-certified plastic surgeon, such as Dr. Sheldon Lincenberg, who serves patients in Atlanta, Cumming, Marietta, Buckhead and Alpharetta.
What is Liposuction?
Liposuction is a plastic surgery procedure that is designed for unwanted fat removal. A board-certified plastic surgeon will use targeted techniques to remove fat cells from specific areas of the body. Not only is liposuction a weight-loss procedure, but it also can be used for body contouring.
Both men and women can benefit from liposuction. The procedure can be customized to meet the needs of an individual, but in many cases, women prefer to focus on unwanted fat removal in specific areas, such as their hips, stomach, thighs, arms and under their chin. Men, on the hand, often have liposuction performed around their waist and under their chin.
Your surgeon will provide you with detailed information about what you can expect from liposuction. It is important to have realistic expectations for the results of your surgery, as this will help you determine if this procedure is the best option for you.
Liposuction Before and After Gallery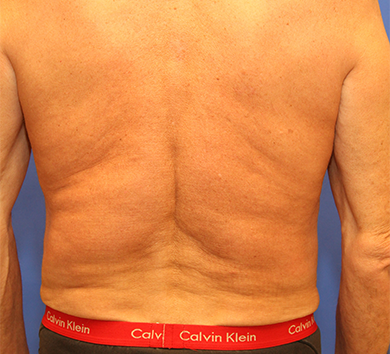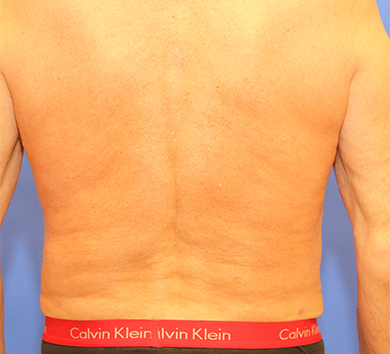 This 59-year-old athletically-fit man desired removal of the fat humps of his lower back.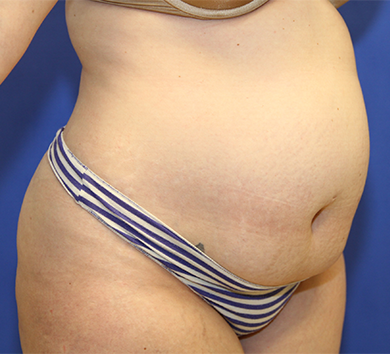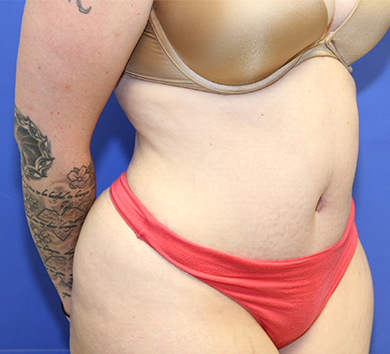 This 33-year-old woman desired the removal of fat from her stomach.
Types of Liposuction Procedures
There are three main types of liposuction procedures that are performed by board-certified plastic surgeons:
Tumescent Liposuction
Tumescent liposuction is an innovative approach to this popular cosmetic surgery procedure. With this technique, the surgeon injects fluid into the affected areas of fat before the procedure begins. The fluid that is used contains several medicines, and it works to preemptively minimize pain, swelling and bruising as well as reduce blood loss. When this approach is used, it lessens the need for general anesthesia.
Those who are interested in this technique should learn more about the cost of liposuction in Atlanta.
Power-Assisted Liposuction
Power-Assisted Liposuction, or PAL, is an approach in which an oscillator is attached to the cannula that works with the tumescent fluid to facilitate the unwanted fat removal.
Ultrasound-Assisted Liposuction
Ultrasound-Assisted Liposuction, or UAL, is a technique in which ultrasonic sound waves are used externally to loosen the fat before it is removed. This approach is preferred when revisiting an area that has previously had liposuction.
Liposuction Vs. Tummy Tuck
Patients who are interested in procedures that focus on unwanted fat removal on the stomach often find themselves deciding between liposuction and the tummy tuck procedure. The abdominoplasty — which is commonly known as a tummy tuck — is a surgery that not only removes unwanted fat but also tightens up the muscles in the abdominal area. It is a procedure that is preferred by patients who have had children, or recently undergone significant weight loss, whereas those that are more interested in body contouring opt for liposuction.
Benefits of Liposuction
Liposuction offers both personal and health benefits for patients. Women who have liposuction performed find that it improves their health and well-being, boosts their confidence and allows them to live the lifestyle that they prefer. Men who opt to have liposuction find that it improves their health and well-being while simultaneously allowing them to feel confident in their personal and professional lives.
Liposuction: What to Expect From Decision to Recovery
Making the Decision
There is a reason why liposuction is one of the most requested cosmetic surgery procedures. This is a minimally-invasive surgery that offers impactful results in specific areas. Patients who want to have a liposuction performed can identify very specific parts of their body that they want to address, and an experienced plastic surgeon can provide comprehensive results.
Consultation
If you are considering the liposuction procedure, the next step is to book a consultation appointment. It is best to meet with multiple surgeons in order to find the one who is the best fit for your needs. During your consultation, you will want to ask a variety of questions, such as:
Are you certified by the American Board of Plastic Surgery?
How do you prepare the fat for a fat grafting procedure?
Can I see before and after photographs of recent liposuction procedures that you performed?
Can liposuction be combined with other procedures, such as a mommy makeover or breast reduction?
Dr. Lincenberg is the top liposuction surgeon in Atlanta, and he has been performing this procedure for more than 29 years. He has worked with both men and women who are hoping to dramatically reshape their body. Schedule your consultation today.
Preparing for Liposuction
In order to be in the best possible shape for your procedure and to get the best results from your surgery, you need to prepare accordingly for your Atlanta liposuction. The best way to prepare for liposuction is to:
Focus on staying active and eating a well-balanced diet in the weeks leading up to surgery.
Avoid taking aspirin and other blood-thinning medications the week before surgery.
Schedule time off from work for the procedure as well as your recovery.
Follow all instructions from your surgeon. In most cases, you will not be able to consume food or water for 6 hours before your surgery.
Make arrangements with a friend or family member to drive you to and from the surgery center.
Have people available who may be able to help you as you recover.
The Liposuction Facility in Atlanta
In most cases, liposuction is performed as an outpatient procedure. Dr. Lincenberg works out of a liposuction specialty clinic in Atlanta. This premier surgical center is well-maintained and is designed to ensure that the patient is comfortable throughout every step of the process. When you arrive at the surgical center for your procedure, you will feel secure knowing that you are going to receive the best possible care.
Liposuction Surgery
The liposuction surgery is an outpatient procedure, and is typically performed in a surgical center. Either local anesthesia or general anesthesia will be used, depending on the extent of the surgery and the areas that are being addressed.
The length of the surgery will vary based on several factors, such as:
The amount of unwanted fat that is being removed.
The areas of the body that are being addressed.
The number of procedures that are being performed in tandem with the liposuction.
Generally speaking, liposuction takes about one to four hours to complete. You should talk with your surgeon about the expected length of your particular surgery and how long you will have to stay in the clinic after the procedure.
Liposuction Recovery Time
Your liposuction recovery experience will vary significantly based on the amount of unwanted fat that is removed, on the technique that is used for the surgery and on the number of other procedures that are performed simultaneously.
Immediately following your surgery, you will likely experience some bruising, swelling and discomfort. Most pain can easily be managed with over-the-counter medications, and the best way to shorten your recovery is to rest and hydrate as often as possible.
For several weeks, you should avoid strenuous activity and heavy lifting. Most patients are able to resume light duties at work within several days, and the full recovery typically takes between two and four weeks.
Liposuction Costs in Atlanta
Due to the customizable nature of this procedure, your liposuction cost will vary based on your specific surgical plan. The size of the area that is being addressed and the other procedures that are being performed in addition to your liposuction may impact the final cost of your procedure. On average, the liposuction procedure can cost anywhere between $2,000 and $8,000.
Risks
As with any surgical procedure, there are some risks to consider before deciding to have the liposuction surgery. However, the risk level is minimized when you partner with the top liposuction surgeon in Atlanta. Some of the risks associated with liposuction include:
Bruising and swelling after the surgery.
Infection.
Irregularities in body contouring.
What Our Customers Are Saying
The majority of patients who have worked with Dr. Lincenberg for their cosmetic surgery needs have been pleased with their experiences. These are just a few testimonials from our previous patients.
"Dr. Lincenberg and staff were Amazing. My experience was wonderful. The atmosphere and the staff makes you feel you are part of the family. I highly recommend using his services. He was professional, detailed and provided step by step information on my surgery. I am very very pleased and happy about my new couture body." - Patricia
"Dr. Linceberg and his staff are amazing! He is definitely worth every penny. They were all so accepting, they treated us like family. Dr. Linceberg makes you feel so comfortable and he shares in on the excitement that you feel! He is amazing at what he does!!! I love Dr. Sheldon and his staff." - Kaylyn
Liposuction FAQs
Who is a good candidate for liposuction?
Anyone who is in relatively good health and who is interested in body contouring is a good candidate for liposuction. In order to find out how this procedure can benefit you, set up a consultation appointment with Dr. Lincenberg.
Will there be visible scarring after the procedure?
All efforts are made to minimize visible scarring after the liposuction procedure. Dr. Lincenberg is an experienced and precise surgeon who strives to give all of his patients the best possible results.
Is liposuction permanent?
Yes, when the procedure is performed, the fat cells are permanently removed. However, liposuction does not prevent future weight fluctuations.
Schedule a liposuction surgery consultation with Dr. Sheldon Lincenberg today.