Rhinoplasty in Atlanta and Surrounding Areas  
Rhinoplasty is a cosmetic surgery procedure that is performed in order to reshape the nose, subsequently enhancing both its appearance and its function. Rhinoplasty in Atlanta is a popular procedure among local residents not only because of its high success rate, but also because of the surgeon's ability to customize the procedure to meet the needs of the specific individual.
Atlanta plastic surgeon Dr. Lincenberg is a renowned doctor who has earned a reputation of excellence, particularly when it comes to the rhinoplasty procedure. Dr. Lincenberg is known for his attentive nature and his willingness to customize the procedure for each individual patient. He is a skilled surgeon who will provide you with the Atlanta rhinoplasty results that you both need and deserve.
What is Rhinoplasty?
Rhinoplasty, which is more commonly known as a nose job, is a surgical procedure in which the shape and structure of the nose is altered. Most people have a rhinoplasty performed for aesthetic purposes, and they are craving cosmetic results, but some people need a rhinoplasty performed in order to improve the function of their nose.
Dr. Lincenberg performs his Atlanta rhinoplasty procedure for clients in Marietta, Cumming, Kennesaw, Alpharetta and other communities in the surrounding region. His goal is to provide every patient with individualized results.
Why Do People Decide to Get Rhinoplasty?
Most people decide to have a rhinoplasty performed by a qualified and experienced cosmetic surgeon in Atlanta for either cosmetic or functional purposes.
Functional Nose Job
A functional nose job is a rhinoplasty that is performed in order to address the structure or function of the nose. One of the most common issues that is addressed in a functional nose job is a deviated septum.
When a person has a deviated septum, the airway inside the nose is obstructed. This can make it difficult to breathe, particularly when a person is sleeping, and it can actually lead to health complications. When Dr. Lincenberg is performing a functional nose job in order to correct a deviated septum, he will alter the structure of the nose so that it is better aligned and so that the nasal airway is clear. When the recovery process is complete, the patient is able to breathe and sleep easier, which often helps improve their overall quality of life.
Aesthetic Nose Job
An aesthetic nose job is the most common form of rhinoplasty. Most people begin looking into the rhinoplasty procedure because they do not like the way that their nose looks. The nose is the focal point of the face, so it is important that everyone has a nose that they love.
You may be interested in an aesthetic rhinoplasty if you want to:
Eliminate a bump or hump on the bridge of your nose.
Reduce the overall size of your nose.
Adjust the width of your nose that it better complements the rest of your facial features.
Reshape the tip of the nose.
When you are considering an aesthetic nose job Atlanta, it's important to work with a plastic surgeon who will work tirelessly to ensure that you receive personalized results. Dr. Lincenberg, for example, takes the time needed during the consultation and pre-surgical process to evaluate your facial features and craft a surgical plan that will provide you with natural-looking results.
Most patients find that they are more self-confident after their Atlanta rhinoplasty procedure. When you love the reflection that you see in the mirror, you begin to feel like you take on life's challenges in a way that you couldn't before. For many, their rhinoplasty procedure was the best investment that they made in their personal and professional lives.
Before and After Gallery
As you consider the rhinoplasty procedure, you may want to look at these before and after images of Dr. Lincenberg's previous patients. These results were customized to meet the unique needs and preferences of the individual patient. You can rest assured that Dr. Lincenberg will take the same time and effort to create a surgical plan that will meet your needs and exceed your expectations.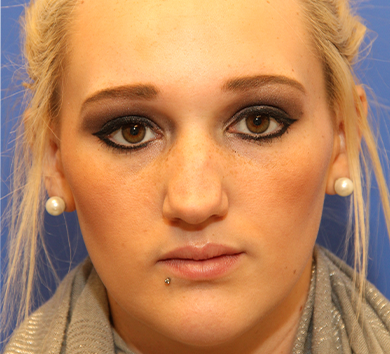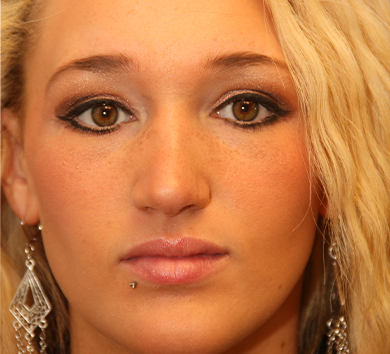 The 19 year old woman above did not like the ridges on the sides of her nose and did not like the "crooked" appearance of the top of her nose.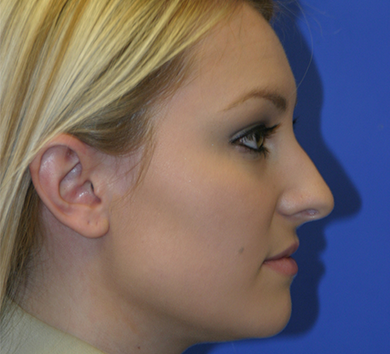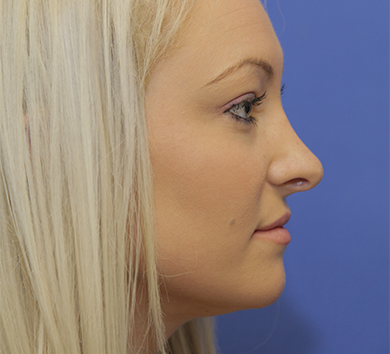 The 21 year old woman above desired a nose that did not look so long. See more before and after images in our gallery.
Surgery: What to Expect from Beginning to End
Whether you are considering a rhinoplasty for aesthetic or functional purposes, it's important to keep in mind that this is a major surgical procedure. You should be aware of what the experience is like, from the moment you schedule your consultation appointment until your recovery is complete. By having an understanding of what you can expect every step of the way, you will be able to successfully navigate through this experience and ultimately enjoy your nose job Atlanta results.
Making the Decision
Having a rhinoplasty performed is a major decision, and it's not one that you should take lightly. The results that you receive from your rhinoplasty are permanent, which is why it's necessary to partner with a skilled and experienced cosmetic surgeon who has earned a reputation for excellence in the Atlanta community.
The right surgeon for your Atlanta rhinoplasty will:
Take the time to get to know you during the consultation process.
Evaluate your facial features and consider your preferences before creating a surgical plan.
Provide you with the information that you need to prepare yourself for the surgery and the subsequent recovery.
Be upfront and honest with you throughout the entire process.
If you are considering an Atlanta rhinoplasty for functional or cosmetic purposes, the best thing you can do is set up a consultation appointment with Dr. Lincenberg. This is the first step toward achieving the look you have been dreaming about.
Consultation
The consultation is the first part of the rhinoplasty process. During the consultation, you can expect the surgeon to:
Get to know you. Your plastic surgeon is going to want to know more about who you are, why you want a rhinoplasty performed and how you feel the rhinoplasty will positively impact your life.
Talk about your goals for the surgery. The right surgeon is going to consider your own preferences and desires as they create a customized surgical plan.
Discuss your options with you. There are limits to what the rhinoplasty can do, and a qualified surgeon is going to be honest about what can be done for your specific circumstances. The surgeon also may talk about different surgical techniques and approaches that would be most beneficial to you.
Go over the cost of a nose job. It is important that you are aware of the costs of this procedure before you make your final decision.
Provide you with information about preparing for the surgery as well as the recovery. Your plastic surgeon will want you to be aware of the fact that this is a major surgical procedure, and that there will be a recovery process after it is complete.
If you are ready to set up a consultation appointment, contact Dr. Lincenberg today. He is currently booking Atlanta rhinoplasty consultation appointments for interested patients in the city and throughout Marietta, Cumming, Kennesaw and Alpharetta counties.
Preparing for Rhinoplasty
After you have your consultation, you and your surgeon will determine if you are a good candidate for rhinoplasty. A rhinoplasty may be the right cosmetic surgery procedure for you if you are between the ages of 15 and 16 and your facial growth is complete, and if you have a realistic understanding of what the surgery can accomplish. Most surgeons want their rhinoplasty patients to be non-smokers who are in overall good physical and mental health.
In the weeks leading up to the procedure, Dr. Lincenberg will work closely with you in order to make sure that you are ready for the surgery. He will take detailed photographs of your face that will aid him as he completes your surgical plan, and he will provide you with detailed information about what you can do to prepare yourself both physically and emotionally for this transformative experience.
Rhinoplasty Procedure
On the day of the rhinoplasty procedure, you are likely going to be feeling a mixture of excitement and nervousness. This is normal. However, when you are prepared for the procedure, and you have an understanding of what to expect, you will feel more relaxed and at ease.
This procedure requires general anesthesia, so it's important that you arrive with someone who can assist you after the procedure is complete. Most rhinoplasty procedures are outpatient procedures, so you will need someone to drive you home and provide you with care during the first pivotal hours after the surgery.
In order to complete the procedure, the surgeon will make a small incision in order to minimize scarring. The skin is removed from the structure of the nose, and the surgeon will sculpt the framework into the new, desired shape. The skin is then once again laid over the framework of the nose. There are various techniques that can be used, but most require the surgeon to perform precise and minute adjustments in order to provide you with the most natural-looking results. In most cases, the surgery takes between 2 and 3 hours to complete.
Recovery Time
Immediately after waking up from the rhinoplasty surgery, you are going to feel groggy, tired and sore. Your face is going to be very swollen, but it's important to keep in mind that it will subside quickly in the days and weeks ahead. You should have someone available to drive you home after the procedure, and you should rest with your head elevated. There will be a dressing on your nose, and that should stay in place for at least a week.
Most people take about a week off of work after their rhinoplasty procedure. During this time, you can expect significant swelling and bruising. Your pain can be managed with over-the-counter pain medications that are recommended by your cosmetic surgeon. You may need someone to help care for you during the first day or two, but most patients find that they can manage on their own after that.
For six to eight weeks following surgery, you will want to avoid any activity in which your nose could be bumped, jarred or bruised. Contact sports should be avoided at all costs. You also will want to avoid any heavy lifting.
It can take up to a year for your full results to reveal themselves, but most patients find that they are enjoying their new appearance within a month. If you have any questions during the recovery process, you can reach out to Dr. Lincenberg at any time.
How Much Does Rhinoplasty Cost?
The cost of your rhinoplasty is going to vary based on your personal preferences and desires for the surgery, and the type of work that will need to be performed. Most patients find that an Atlanta rhinoplasty costs anywhere from $6,500 to $8,500. In most cases, health insurance will not cover the cost of surgery. Keep in mind that the cost of a nose job is an investment in yourself. This procedure will allow you to look and feel your best, which can have a significant impact on your quality of life.
The Risks of Rhinoplasty
As with any surgical procedure, there are risks involved with having a rhinoplasty performed. However, those risks are greatly minimized when you partner with a skilled Atlanta plastic surgeon, such as Dr. Lincenberg.
The most common risks of rhinoplasty include:
Infection
Bleeding
Scarring
Persistent Pain
It is important that you discuss your personal risk factors with your surgeon during the rhinoplasty consultation process, so that together you can determine if this is the right procedure for you.
What Our Customers are Saying
"Dr. Lincenberg explained to me every detail about the surgery. He has amazing bedside manner and never made me feel uncomfortable during exams. Post-surgery results look amazing and I couldn't have asked for a better doctor." - Nikolai
"I simply love Dr.Lincenberg. I am extremely pleased and grateful to have had him as my doctor. He is very kind and caring. He is very experienced in his field and is very uptodate in his field." - B.N.
"Dr. Lincenberg and staff was Amazing. My experience was wonderful. The atmosphere and the staff makes you feel you are part of the family. I highly recommend use his services he was professional, detailed and provided step by step information on my surgery. I am very very pleased and happy about my new couture body." - Patricia
Common Questions & Concerns
Some common questions and concerns that patients have include:
Will there be scarring after my recovery is complete?
Dr. Lincenberg takes great care to make the incision in a discrete location and to minimize the size of the incision. Most patients do not have visible scarring.
Are there non-surgical alternatives to rhinoplasty?
Yes, there are non-surgical alternatives to rhinoplasty that you can consider. You can discuss your options with the surgeon, but these non-surgical alternatives offer less-permanent results, and they may need to be repeated over time.
How painful is the rhinoplasty?
As with any surgery, there is some pain and discomfort immediately following the procedure. However, most patients are able to manage the pain with over-the-counter pain medications. Any pain will subside significantly in the first few days after the surgery.
Will my rhinoplasty age well?
When you partner with a qualified surgeon to perform your rhinoplasty, you will enjoy lifelong, natural-looking results.
Next Step: Schedule Your Consultation
Now that you know what to expect from the rhinoplasty procedure, it's time to take the next step towards the new you. Schedule a rhinoplasty consultation with Dr. Lincenberg today.