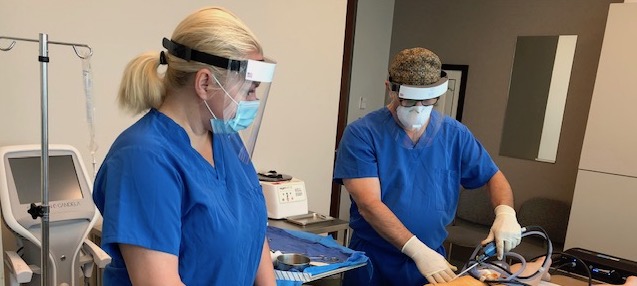 We are Committed to Keeping You Safe
We are pleased to announce that we are able to perform cosmetic surgeries again and serve you with new levels of safety protocols. As we venture out after weeks of staying at home, we all need to exercise extra caution to stay healthy and safe.
Here are the new standards we have put in place to protect you:
We encourage the use of virtual consultations for patients initially considering a procedure. We have had tremendous success with this approach, and it allows you to learn more about your surgery and have your questions answered from the comfort and privacy of your home.
We have augmented our office cleaning protocols. When you do come to the office, you will find all contact surfaces wiped down between patients, additional hand sanitizer available, and a screening process for each patient to assess any exposure and symptoms.
Our team members are using personal protective equipment, including masks and gloves, and we ask that you also wear a mask for your safety when you visit our office. If you do not have your own, we will provide you with a mask and gloves upon arrival. Paper disposable gowns will be used during appointments.
We are screening patients upon arrival by taking your temperature and performing a quick questionnaire.
We are exercising social distancing. We have closed the reception room in our office suite and ask that family and friends remain in the building lobby or in the car when you visit us.
Appointment scheduling has been staggered so that you will not be in the office at the same time as other patients.
We will also use appropriate protective equipment during procedures. We are so happy to welcome you back, but most importantly – we want to keep you and your loved ones safe.
What patients are saying about their visit during this time:
"Been a patient of Dr. Lincenberg for over six years and always have been happy. One of my treatments was during COVID, but I felt completely safe. All precautions and safety measures were in place. Will be returning again soon." - J 6.3.2020
"I was very impressed with how [Dr. Lincenberg] took extra measures in which to make me feel more than safe in their office and feel confident COVID free. Thanks -JC 6.8.2020
If you have questions about our new safety protocols, please call our office for more details. Now, let's talk about that procedure you're been waiting to have!